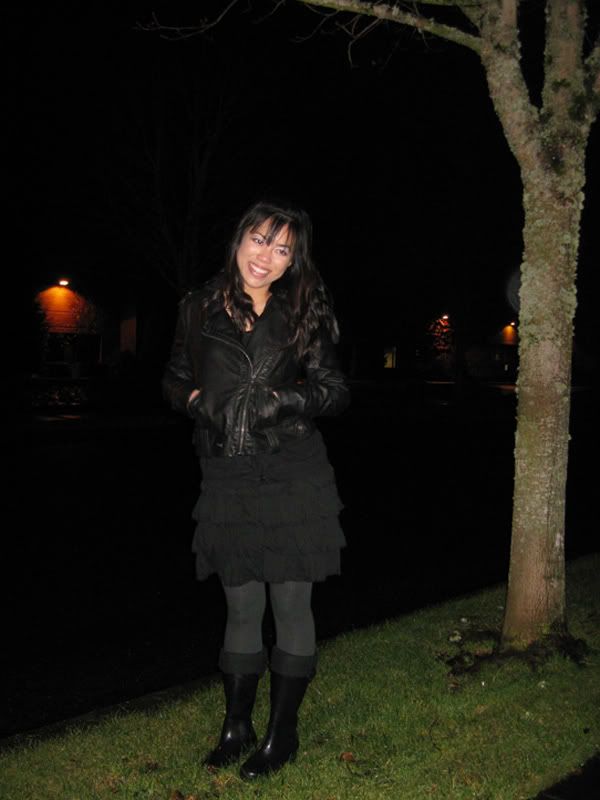 C & C California top. C & C California cardigan. People's Liberation jacket.
Aerie dress [worn as skirt]. Hot Sox tights. Sperry rain boots.

Being able to incorporate rain boots into fashion comes in quite handy when you live in the Pacific Northwest. On days when I really want to avoid puddles, I throw on my Sperry rain boots (find similar ones here). Not only are they black--making them really versatile, warm (they're lined on the inside), they are also wedges--making them more fashionable than the average pair of rain boots. On the downside, they are not as comfortable as they are versatile, warm, and fashionable; I couldn't wear them all day unfortunately. However, if you're only going out for a few hours and don't want to risk puddles and splashage (no, that's not a real word), I completely recommend these. They are perfect for being stylish and practical. I give them a 4/5.

I finally got around to watching Eat, Pray, Love and really liked it. I'm going to point out the obvious here and say that Julia Roberts is an amazing actress in this memoir-turned-book. She did a good job depicting Liz, a woman struggling through her life, trying to find both meaning and balance. The movie was both relatable and inspiring to me. The scenery is also astounding and makes you want to follow in Liz's footsteps and travel to those places. It's amazing the amount of courage Liz Gilbert had to drop everything and leave in search of change. I give the movie a 4/5 contrary to most other reviews I read. I think most people were dissatisfied with how the movie depicted Liz's journey in comparison to the book, and I am definitely inspired to go read the book--which might change my rating, but we'll see!


Don
't forget to enter my giveaway!!

The giveaway will be closed 11:59PM (PST) Monday, January 31st! Follow me on here (via Google Friend Connect), Twitter, Bloglovin', or Facebook and just let me know where you're following me. Each place is worth one entry--follow me on all places for 4 chances to win!

-S


P.S. Have you hugged a tree today? :o)