Obsession of the Week: Over-the-knee socks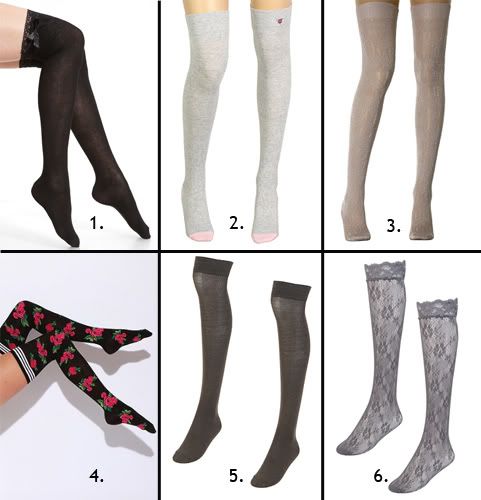 1. Nordstrom Ribbon Lace Over the Knee Socks, $12; Do you see the lace trim at the top? Enough said.
2. Betsey Johnson Simply Basic Over the Knee Sock, $9; Definitely simple and basic, but with a cute flower detail.
3. Missoni Dress Socks Socks, $72; Love the gorgeous sheer design in Champagne.
4. Betsey Johnson Mexicali Rose Thigh High, $24; Fun! Wear with a simple outfit and let them stand out!
5. Forever 21 Knit Over the Knee Socks, $2.50; As affordable as you can get!
6. Forever 21 Sexy Thigh Hi Socks, $5.80; I love lace, and I certainly love these socks!

First came the obsession of over the knee boots. All the celebrities were wearing them, and even now, they're still all the rage. I take it a step further with my Obsession of the Week: over the knee socks. First, if you're wearing over the knee boots to start with, you obviously need to be wearing over the knee socks; otherwise, your knees are feeling left out in terms of coverage! However, what's also great about over the knee socks is that if you're wearing boots of any other length (besides over the knee)--or even heels, the great length of the socks offer a peekaboo view of your socks--better if the socks you're wearing are cute! I really hate wearing tights, and as the weather gets colder, high socks offer a great alternative!

P.S. This post was completely on time! Yay, me for making the end of the week deadline!