Obsession of the Week: Rockin' Rings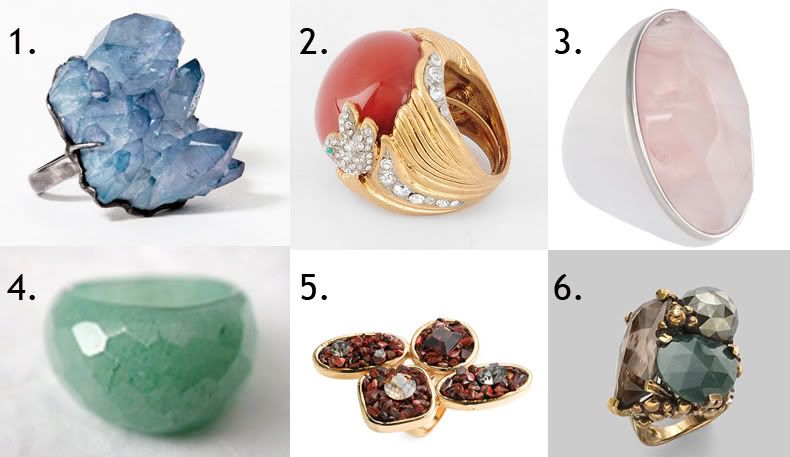 1. Billy Bride Eres ring, $395; Just because it's the last ring on the website not sold out doesn't mean it's any less amazing.
2. Juicy Couture Vintage Red Agate Sparrow Ring, $88; Okay, the agate is faux, but it's still a beautiful ring!
3. Manu Rose Quartz & White Agate Ring, $195; Delicate, yet still subtly edgy.
4. The Carrot Box Green "Jada" Ring, $16; Simple and affordable!
5. Sparkling Sage Crystal Statement Ring, $48; Definitely a statement ring!
6. Stephen Dweck Smoky Quartz, Green Bloodstone, & Pyrite Bubble Ring, $495; Love the elegant style.

I've never really liked science; I found it boring and I was just not good at it--that is, except when it comes to geology. When I was in second grade, I was in an after-school rock club, and it wasn't music we studied. Confession: I still have such nerdiness inside of me. So when I hear terms like "agate," or "pyrite," "quartz," or "bloodstone," I get super excited. What you have here in today's entry is my passion for rocks combined with my love for fashion.