Obsession of the Week: Aldo heels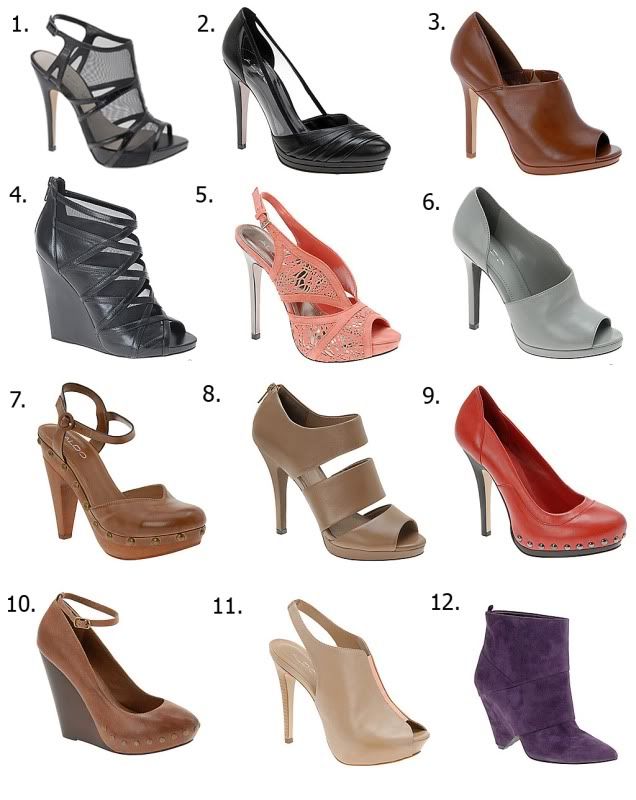 1. Schade, $33.74; I like the strappy + mesh look.
2. Kotas, $33.74; The clear shanks on the sides are definitely different.
3. Beier, $33.74; Been looking for a non-boring pair of brown heels.
4. Kimzey, $33.74; Sexy wedges!
5. Secrest, $33.74; Love the fun, soft coral color of these heels.
6. Hodapp, $37.49; Been looking for a pair of gray heels, also love the cut of the shoe!
7. Sandford, $41.24; I like the heeled clog feel to these.
8. Creger, $44.99; Neutral heels are a must! Plus, love the cut of the shoe.
9. Zweier, $44.99; I don't wear red but would totally get these! Love the studded detailing!
10. Mignogna, $44.99; I love wedges, neutral colored heels, and studs--great combo!
11. Nemets, $44.99; Hello, neutral slingbacks! Subtly sexy, especially with the hidden platform.
12. Froling, $48.74; They always say purple is the color of royalty!
I came to the realization that though my blog implies that I am fashionably greedy and want everything, I have yet to really take the time and tell you what I'm lusting after. So lo and behold, here is my first Obsession of the Week post! There are endless amazing Aldo heels on sale, but specifically, I have (after hours of struggling) narrowed it down to my top 12 pairs of shoes all under $50! So help a girl out, which ones are your favorites? And better yet, tell me what heels you've been wanting!