It seems like every big celebrity out there has their own fragrance, and a good percentage have their own clothing line. I'm starting to wonder if the next big thing is to start their own jewelry line. When I heard Kim Kardashian started her "Belle Noel" jewelry line, I was a bit skeptical.

However, after checking out her stuff, I thought, "Hey, this isn't too shabby!" I actually really like Belle Noel. It's no House of Harlow in my opinion, but her designs are pretty nice. I love the edgy glam that Belle Noel portrays. Plus, it's rather affordable which makes the line even better!



Obsession of the Moment: Belle Noel Jewelry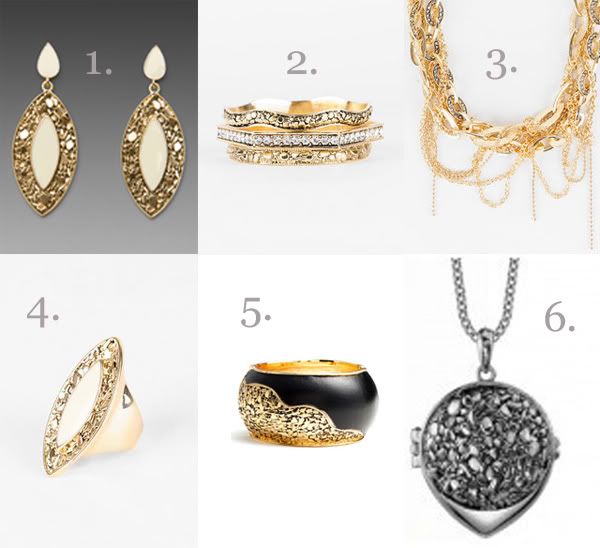 1. "Nugget Double Drop Earrings," $30; I find these earrings really versatile. They would easily glam up any outfit, yet are so simple that you can wear it with anything.
2. "3 Pave Stack Bangle Bracelets," $88; I love the texture and pattern of the bracelets, and they would certainly look great together or individually.
3. "Multi Chain Nugget Necklace," $90; the ultimate glam statement necklace!
4. "Nugget and Ivory Ring," $25; this glamorous ring is a steal! I am also loving the ivory in the middle, it makes it not too much.
5. "Leather and Nugget Cuff," $125; it's a bit House of Harlow-esque, but that could probably be why I like it so much.
6. "Nugget Belle Locket" in Palladium, $45; I have a thing for lockets. I like the "nugget" design which makes the locket more unique and modern.
What do you think? Is it another lame celebrity attempt to expose their name more or would you actually buy Kim Kardashian's pieces?

Speaking of Kim Kardashian, I cringed when I first heard her new single. However, when I was watching the [rerun] episode of "Keeping Up With the Kardashians" (I just recently started watching it because there are no other shows to watch late at night!)
where Kim is recording the song with The Dream, I felt kind of bad for not giving it a chance because she had been so nervous. It could have also been strategically edited/acted out, but still!

In conclusion, if you hate Kim Kardashian's music, maybe you should at least give her jewelry a chance? I did! :o)


--S


Find me here too:
Chictopia
Facebook
Lookbook

Let's be friends! :o)