You are the wearer; you decide how to something is worn. We wear dresses as tops. Tops as dresses. We do as we please.

When I was around 11, we were shopping for a flower girl dress for me and went into a Betsey Johnson boutique. I spotted this gorgeous white party dress and thought to myself, "I would totally wear that as a wedding dress!"


ShopBop recently unveiled their Wedding Boutique earlier this week, and I absolutely love their selection of wedding dresses. I'm not entirely sure I would them all necessarily as wedding dresses, but I know for sure that I would wear most of them in general! Thus, my selection is simply amazing white dresses (though I sneaked some non-white ones in).

Obsession of the Moment: LWD --Little White Dress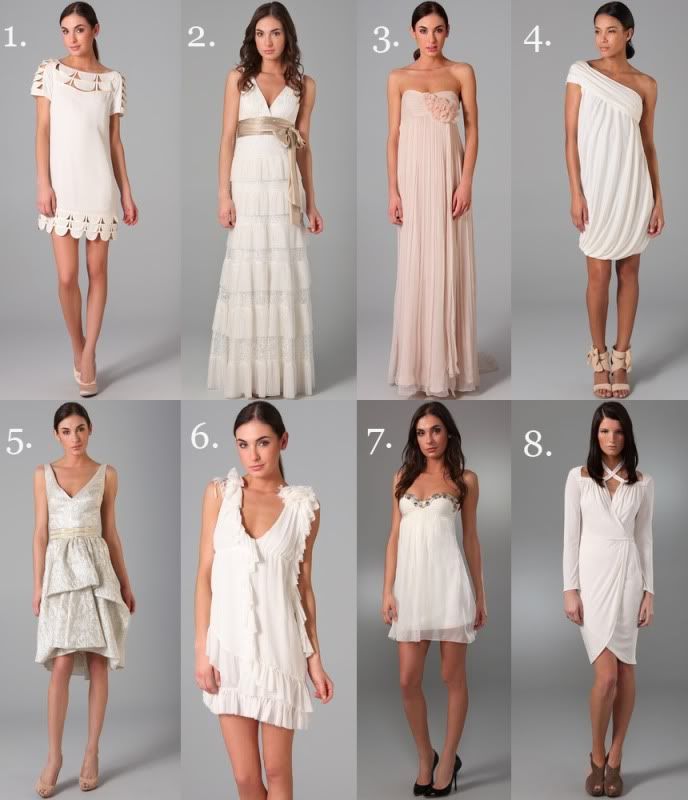 1. Temperly London "Mini Oriel Dress": love, love, love the detailing! It turns what would've been such a simplistic dress into a unique piece.
2. BCBGMAXARIA "Carly Layered Lace Gown": I have a thing for both layers and lace, but I simply love this dress. That tie at the waist is simply the icing on the cake.
3. Leila Hafzi Bridal "Mariam Gown": simply romantic. I would wear this dress to a wedding (but probably not if I was the bride).
4. Doo.Ri "Torqued Draped Dress": such a lovely one shoulder dress!
5. Lela Rose "Brocade V-Neck Dress with Belt": brocade instantly dresses up any item; it's a lot like tweed and almost always makes something classy.
6. Alice + Olivia "Daisy Ruffle V-Neck Dress": I'm not sure if you can really go wrong with Alice + Olivia; they make the best dresses!
7. Temperly London "Mini Marcia Dress": how fun and carefree is this dress! I'd wear it on a sunny day. :o)
8. 3.1 Phillip Lim "Cross Collar Faux Wrap Dress": I think this dress would be perfect business/professional attire; what a cute dress to wear into the office! [Faux] wrap dresses are a bit boring and generic but the cross collar makes it worth wearing.
I've found that a lot of [shopping] sites that attempt bridal boutiques tend to have a boring selection, but I think Shopbop fared pretty well. At least their selection was pretty! My ideal wedding dress would have a long, really full skirt, but if I

had

to pick one of the dresses
to make my wedding dress, this Leila Hafzi Bridal "Vanda Gown" would definitely be it: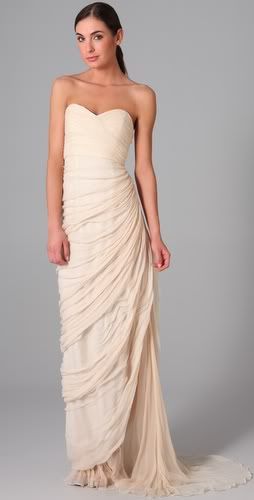 I love its elegance and that while it's simple, it's not boring.
Pretty wedding-esque dresses make me want to get married! What kind of dresses do you like?
Or, if you've been married, what kind of dress did you have?



--S


Find me here too:
Chictopia
Facebook
Lookbook

Let's be friends! :o)