I first discovered Melissa shoes probably more than a decade ago as a kid when I saw their funky see-through plastic sneakers at Meier & Frank (back when Meier & Frank was still around!); but it wasn't until earlier last year when I bought my first pair of Melissa shoes (the Night Flocked II flats--seen here and here--in white from Gilt). Soon after, I purchased a pair of Campana Zig Zag flats in silver and Triple Ankle Strap Flats in red.

I absolutely love the pairs of Melissa shoes I have now and am constantly on the hunt for more pairs! Melissa Shoes also collaborate with other designers, continuing their trend for uniquely designed shoes. Vivienne Westwood helped design numerous shoes, and newer designers are featuring John Paul Gaultier and Alexandre Herchocovitch.
Melissa shoes are not only amazingly designed and chic, they are also incredibly comfortable. And as if those reasons alone weren't enough to make Melissa shoes so great, they are also very eco-conscious. Melissa shoes are made from eco-friendly recyclable materials. Furthermore, a portion of their sales goes toward the World Vision Organization.
Melissa shoes are fashionable, unique, low maintenance, comfortable, and eco-friendly--what more could you want in a pair of shoes?

I just discovered endless styles I haven't seen before and fell short of a panic attack because I wanted them all! Below are my top favorites...
Obsession of the Week: Melissa shoes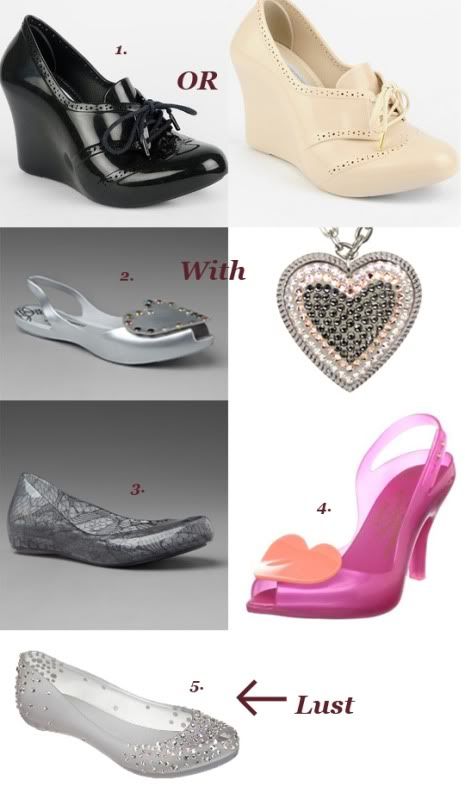 1. Alexandre Herechocovitch x Melissa Troupe Wedge in both black and beige please! $140; I've never really caught onto the whole menswear trend, but I absolutely love these shoes! If I could afford to, I would definitely buy both!

2. Vivienne Westwood x Melissa Zen Girl flats, $78; I feel like it would go great with my Tarina Tarantino Crystal Pave Heart necklace if I got it in gray (I currently have a pink colored one).

3. Ultragirl Chausette flats, $90; I love, love, love the lace design!

4. Vivienne Westwood x Melissa Lady Dragon Heart Pump, $180; if you're interested in joining the bandwagon! There are numerous celebrities who have this style of Melissa shoes--from Jennifer Stone (Disney's "Wizards of Waverly Place") to Leona Lewis and Katy Perry to even Pamela Anderson! The style is super whimsical and fun and comes in a variety of color combinations for your pleasing.

5. J. Maskrey x Melissa Ultragirl flats, $385; the ultimate lust--I will probably never be able to afford these. But look at how gorgeous they are! Not to mention the amazing glamor added with the Swarovski crystals.

Find me here too:

:o)