Obsession of the Week: Samantha House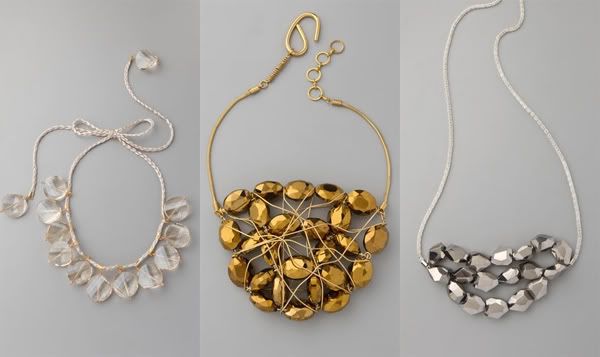 [From left:]
Luster necklace, $75; simple, chic, and highly versatile. This necklace can easily be worn on a casual day or a fancy day.

NightinGail necklace, $75; what else to say besides that it's absolutely amazing? Definitely a statement necklace that brings both glam and edginess. I would rock this necklace at any party. It says, "Look at me, I am glamorous."

Ahoy necklace, $75; definitely a silver necklace like no other. Classy, glam, edgy--this necklace can bring to your necklace whatever you want. It's more edgy than the Luster necklace, but more subtle than the NightinGail.


I was browsing online per usual and came across Samantha House. Wow, her jewelry line is amazing! All her jewelry on Shopbop (though limited at the moment) is currently on sale so make sure to check them out before they sell out.

Any of you who have seen/read my older posts know my obsession with rocks and stones, and if you didn't know yet, this post is especially for you! In general, I love rocks and stones because my inner nerd has to find some indulgence. But as far as fashion goes, I have yet to see any rocks, stones, or rhinestones that doesn't add a statement to whatever they are on.






Find me here too:

:o)