Sorry I've been gone for so long! I've been really busy, work had been stressful, and my boyfriend and I had broken up; in general, life had just been rough and I was taking a little break. But I'm back and better than before!
I'm turning twenty three this weekend and I'm ready to make good changes. It's time that I go after everything I want in life. Let the ambition restart! :o)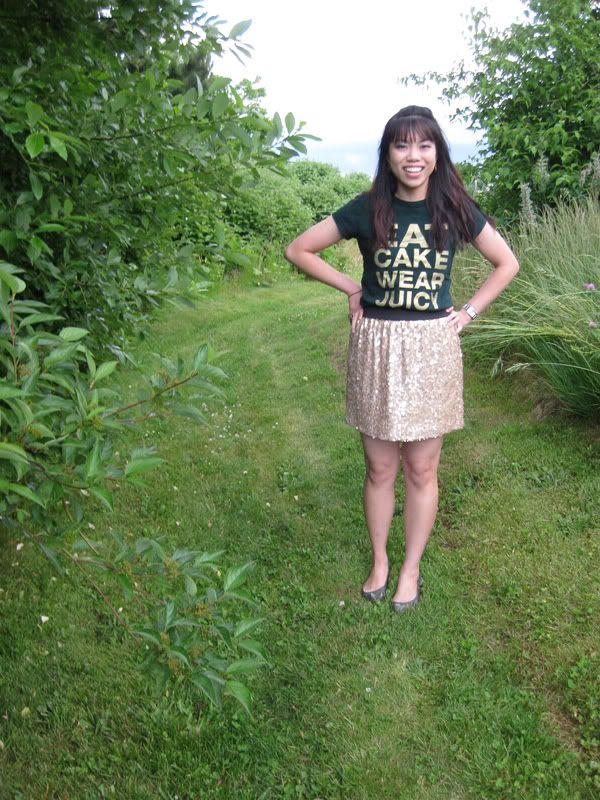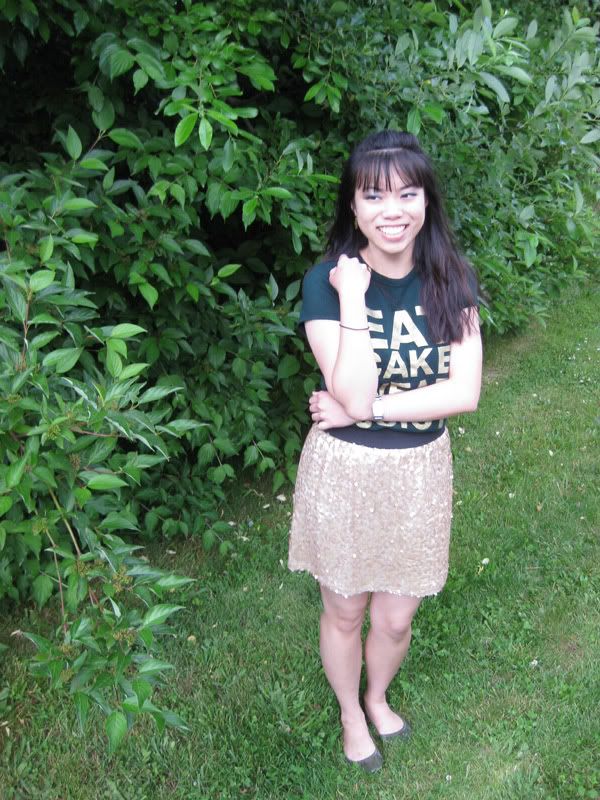 Juicy Couture tee. Eighty Six skirt. Gap flats. Marc Jacobs earrings. Guess watch. Forever 21 ring.

I went for a green and gold theme here. I had this Eighty Six skirt for awhile and had been dying to wear it; but sequin skirts--especially gold ones since the color makes it extra blingy--are kind of hard to pull off on a normal day. I paired gold skirt with my Juicy Couture screen tee since the gold lettering matched the skirt. Despite the fact the words are glittery, the screen tee adds casualness to the outfit. I added my gold rose ring for a little bit of statement, and anytime I wear dark green, I seem to always wear my Marc Jacobs owl earrings! Finally, to bring my outfit down a notch and prevent it from being over the top, I went with flats--dark green to match! :o)
Thus, when trying to wear something normally fancy/dressy for a normal day, dress it down with casual items such a screen tee and/or flats.

Also, advice of the day, as my shirt says, "Eat cake, wear Juicy Couture!" although not necessarily verbatim. (I, personally, am not a huge cake fan.) In a more general translation, eat what you want and dress fabulously! :o)
Have you seen the Pretty Little Liars season finale?? It was pretty good! And of course, expect Pretty Little Liars fashion inspirational pictures to follow later!