There are numerous fashion bloggers participating in the 30 for 30, and I opted to not participate from the beginning. In reality, I would likely inadvertently end up participating because when I like certain items, I wear them over and over again (like these Zigi boots actually, as also seen here, here, here, here, here, here, here, and just a few days ago here...). I'm not even going to bother listing all the posts where I've worn my black People's Liberation jacket because the number of links I provide would probably be double digits; my friend even told me that I needed to retire the jacket from wearing it so often (of course, that won't happen because I absolutely love it).

However, I'm well aware of my habitual wearing habit and that's why one of my goals this year is to wear everything in my closet at least once. Thus, this blazer is making its appearance for the first time in nearly a year! Last time I wore it was March of last year (see here)! Some items in my closet don't normally even get lucky enough to be worn annually, but hopefully, I can accomplish my goal and change that!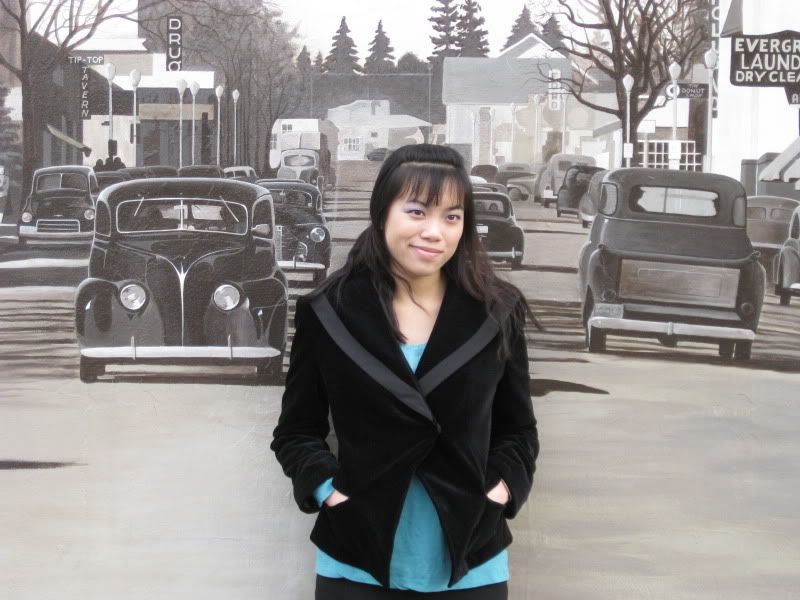 C & C California top. William Rast blazer. Heartloom skirt. Zigi Soho boots. Moschino earrings.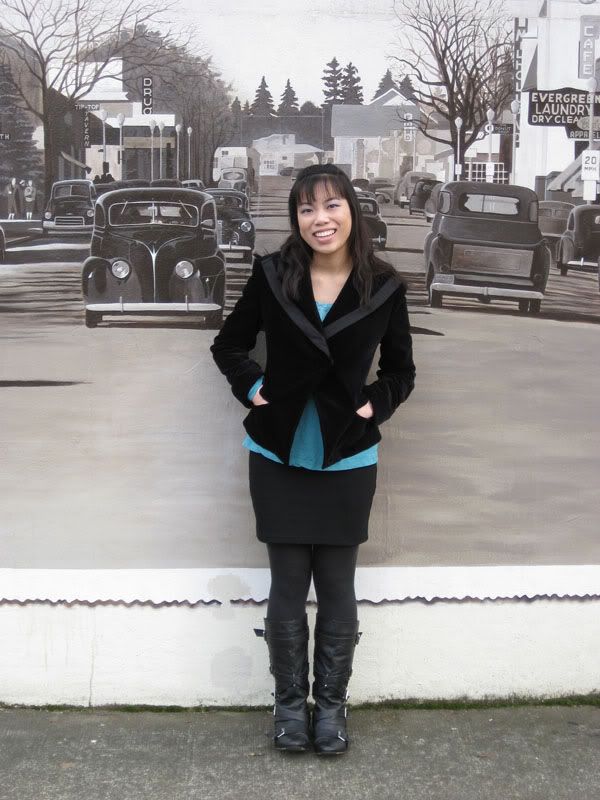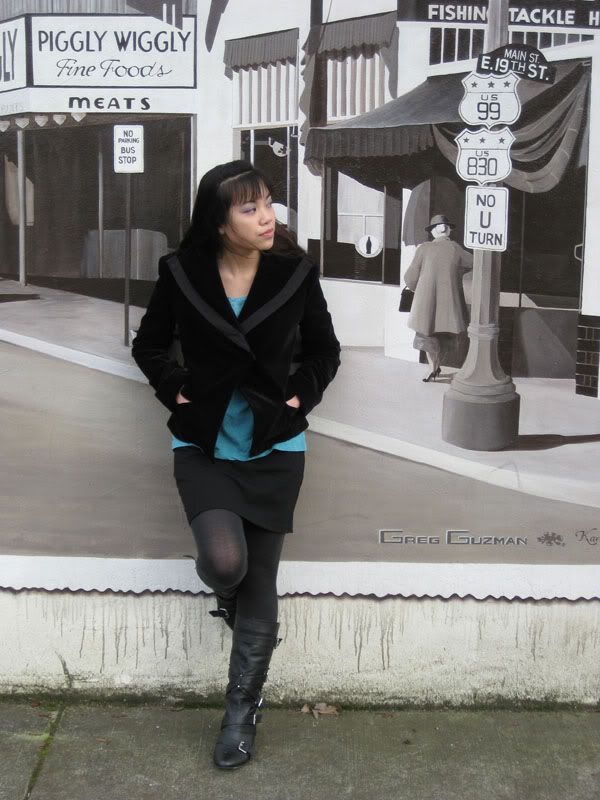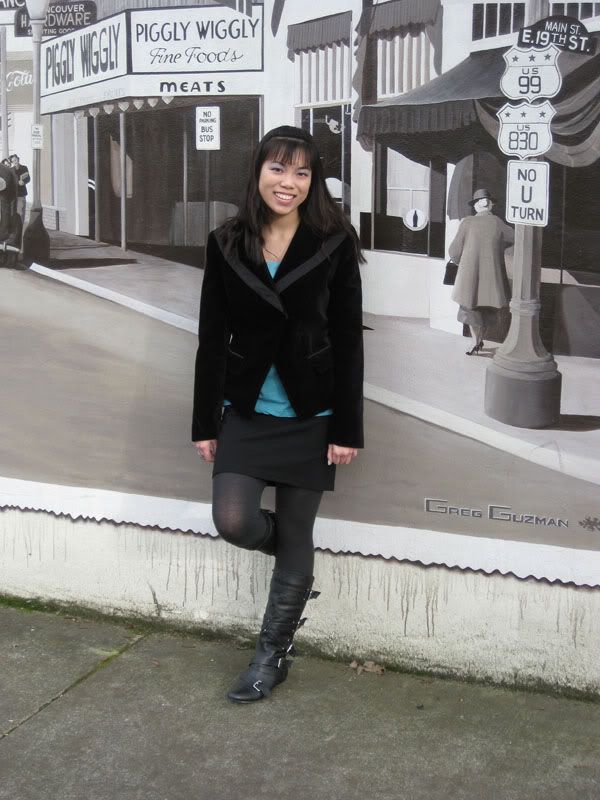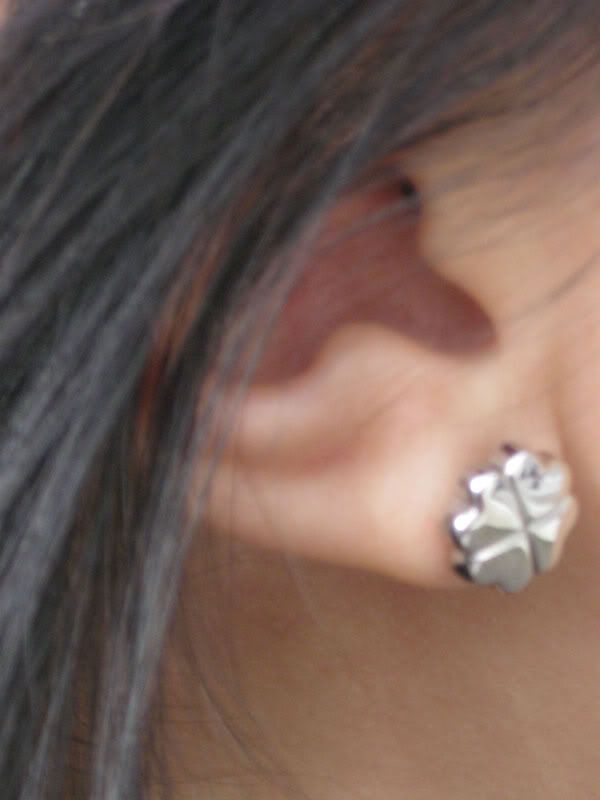 I'm in love with this mural downtown and finally got around to taking pictures with it. If my shirt wasn't in color, I could fully blend into the black and white!

Special thanks to KC from Sequin Corner Cakes for awarding me with the "Stylish Blogger Award"! I'm so flattered! :o)


Rules receiving this award:
-Thank and link back to the person who gave you this reward.
-Share 7 things about yourself.
-Award 15 recently discovered bloggers.
-Contact these bloggers and tell them about the award.

7 Things About Me:

1. The first thing I would do if I won the lottery would be to go out and buy a classic medium Chanel "shopping bag" or a Louis Vuitton monogram Speedy 30 bag.
2. Writing is one of my biggest passions. I published 2 books of poetry by the time I was 17 (see here and here). I'm currently working on a children's book.
3. I have loved arts and crafts since I was a kid (see my recent painting and headbands).
4. I'm not good at any sports, I just run; I do the Susan B. Komen 5K annually.
5. I am a complete night owl; I am lucky if I can get to bed by 3am. I just feel most motivated to get things done late at night.
6. When I was little, I used to change my favorite color every birthday until I ran out of the "good" colors and was left with having either orange, yellow, or brown as my favorite color; so I just gave up.
7. I'm a bit old fashioned and love reading and writing emails. (Email me at samanthavlee@gmail.com!)

I pass the Stylish Blogger Award to:

1. Kileen of Cute and Little: you can be sure to find her in a fabulous outfit every time.
2. Shin of Fashion Cappuccino: great pictures, great picks, and great outfits.
3. Michaela of Michaela Noelle Designs: she's just lovely!
4. Elle Sees: great photo collages!
5. Kryz of Thirstythought: has impeccable outfits.
6. My Closet in Sketches: love her illustrated outfits.
7. Melrod of Modanista Junkie: great style!
8. Jamie of Glam Latte: she has great taste!
9. Diana of Diana Kang: amazingly glamorous style, plus, I'm pretty sure we have the same taste in music.
10. Sheryl of Walk In Wonderland: really cute outfits!
11. P.S. I Made This: so fashionably creative.
12. Bonnie of Flashes of Style: always looks effortlessly cute.
13. Karolina of K Come Karolina: great blog!
14. Passports and Prada: love her versality.
15. Bonnie of Glam Kitten's Litter Box: her personality really shines through her blog.

Congrats everyone! :o)


-S