I've been busy with work lately, as well as my new internship so for those of you who loyally looked forward to my Obsession of the Weeks, I'm sorry they ceased. I also just acquired the position of another internship so during the next few months, I'll be juggling my job and 2 internships, as well as attempt to find time to sleep. So I knew I wouldn't have the time to maintain my ritual of Obsession of the Week. Instead, it has become replaced with "Obsession of the Moment" where I sporadically find time to obsess over fashion-esque things.

Obsession of the Moment: Valentine's Day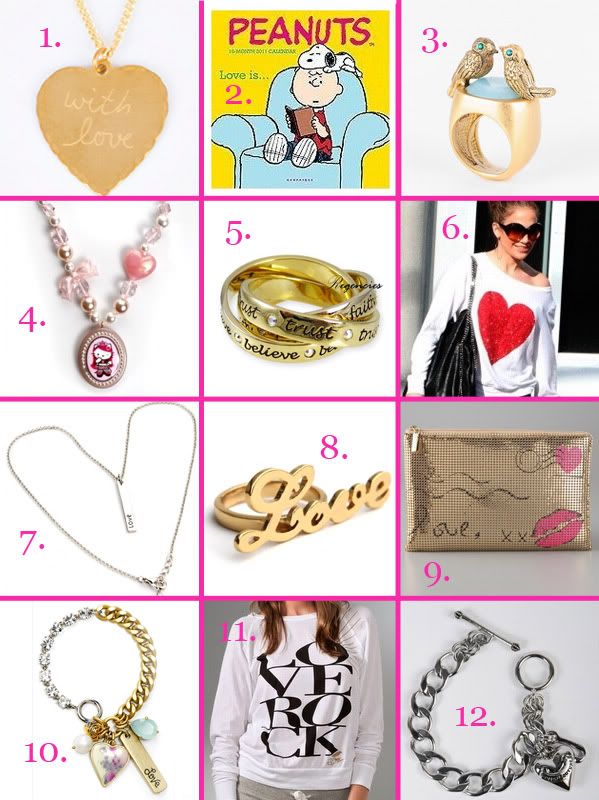 1. In God We Trust "Sweet Nothing Necklace--With Love," $40; simple and sweet.

2. Peanuts "Love Is...2011 Calendar," $7; even though everyone buys their calendar in December or January, if you were to get a calendar in February, this one would be it. It's super sweet, Peanuts style.

3. Juicy Couture "Kissing Birds Ring," $88; I love the blue stone, the kissing birds and their rhinestone eyes.

4. Tarina Tarantino "Pink Head Queen Puff Multi-Bead Necklace," $140; both girly and romantic.

5. Disney Couture "Tinkerbell Interlocking Ring," $40; trust, believe, faith...all components of love.

6. Wildfox "Sparkle Heart Baggy Beach Top," $108; the glittery heart is meant for Valentine's Day--as well as every day! J.Lo rocks it and so does Taylor Swift; I want to rock it too!

7. Stil "Love Tab Necklace," $16; love the simplicity of this necklace. The brand also has the same necklace with "Peace" and their "Hope" one is sold out; the style is great for layering.

8. CC Skye "The Love Ring," $125; love can be a bold statement, what better way to show it than with a statement ring? Plus, I love, love, love CC Skye; it is one of my favorite jewelry brands of all time.

9. Felix Rey "Love Letter Clutch," $130; a really fun clutch! I envision wearing it with a black dress and pink heels or maybe vice versa.

10. Juicy Couture "Festival Chic Iconic Charm Cluster Bracelet," $68; the rhinestones, the gold chain, stone/gem charms, love tab, and romantic, antique-sque heart--this bracelet has it all.

11. 291 "Love Rock Long Sleeve Tee," $42; the shirt says it all. (Bonus: it's on sale!)

12. Juicy Couture "Silver Starter Bracelet," $42; I've wanted this bracelet since forever. It would make a great gift to any Juicy Couture fan. I am not a huge fan of charms so I would prefer to wear this bracelet as is--simple and chic.



Valentine's Day is probably the time of year when Hallmark hits its jackpot and retail/department/boutique stores jump for joy (at least after all the sales). One of my coworkers recently commented that

her
fiancé
was anti-Valentine's Day because he felt he didn't need to be limited to just one of the year to let her know he loved her. Very true, but we can't fight tradition! (Well, unless our significant other is willing to shower us with gifts every day....)

In any case, it's not the end of the world if you don't have a significant other when Valentine's Day comes around--it is also known as Singles Awareness Day! Why not make it special anyway? After all, you're pretty special! If you don't have that person to shower you with gifts, use it as an excuse to buy yourself a present--that's what I used to do! We all need an excuse to splurge sometimes. (And if The Boyfriend doesn't get me something from the above, maybe I'll have to get myself a present too... ;) )


What are you hoping to get this Valentine's Day? :o)




Find me here too:

:o)