I'm semi short so I tend to wear skirts and dresses with shorter hems to allude that my legs are longer than they really are. Any length that falls past the knees gets a bit tricky so I tend to avoid them altogether.

However, once upon a time ago, I fell in love with John Varvatos and bought this silk dress. It's longer than I prefer--it's probably the longest dress I own besides the one in this post--and it's a tad matronly but I love it nonetheless. In attempts to not look so 40s housewife-ish, I paired the dress with nude fishnets (which is hard to see because of the brightness of the pictures) and tall heels.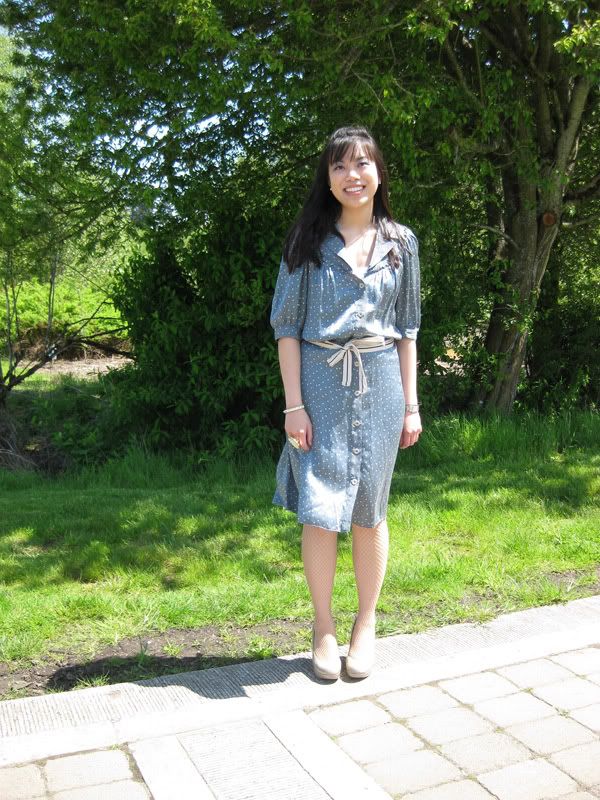 John Varvatos dress. Forever 21 tank top.
Steve Madden heels.

Swarovki earrings. Linea Pelle bracelet. House of Harlow Sunburst ring.
The newest items Sunburst collection from House of Harlow are currently this khaki color. I have the Sunburst ring in cream (as seen in this post), the earrings in black, and I have been wanting the Abalone Pendant Necklace for the longest time. So if I continue the trend of collecting different items from the collection in different colors, I could still choose from a few others to get in khaki. :o)

I am so excited that Pretty Little Liars is back! I haven't watched this week's episode yet though, has anyone seen it? And if so, was it worth the wait??


I'm going to start having a "Blogger/Look of the Week" which will normally be announced on Fridays (conveniently coinciding with Friend Friday) so be sure to friend/follow me on Facebook and Twitter! ! :o)