I bought these boots nearly 2 months ago and
blogged about them
, but here is their debut! I love them so far! They are currently being categorized as 3 hour shoes, but I'll have to wear them longer next time and see if I can last in them. I love their tall height and their versatility with their ability to be either thigh high or rolled down as over the knee boots.
My Juicy Couture headband and scarf were purchased at the same time--
amazing
deals scored at Nordstrom Rack. LOVE that store! I am also especially loving the scarf. I didn't know how I would like an infinity scarf, but I am definitely converted to an infinity scarf wearer! They are so fun and easy to wear, I don't know why I was so hesitant before! They are worn/wrapped like a long scarf would normally, but you are saved the hassle of trying to figure out what to do with the ends of the scarf (well, I have that problem, do you??)! I don't think you can entirely tell from the pictures, but the scarf is also studded. :o)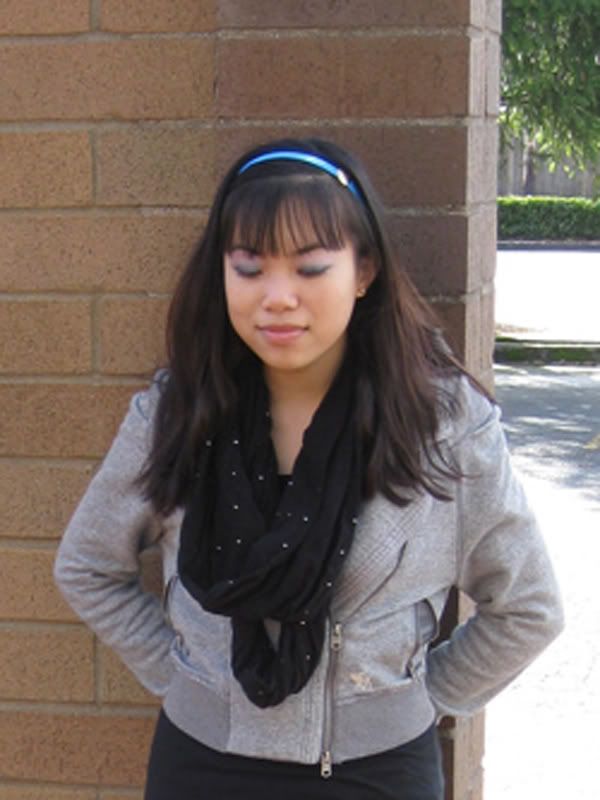 I get constant compliments on my eye makeup and when I thought about, I realized my eyes are as great as they are (well, on a good day!) primarily thanks to Urban Decay and Lancome! Urban Decay is my favorite brand for eyeshadows because I love their selection of colors; I especially love their
Book of Shadows
. The "Books" always come with a great variety of colors and are always really fun. I give kudos to their marketing and design team--or whoever comes up with the book/box designs; every edition of the Book of Shadows is always really fun and I hate tossing it after I'm done!
I like the
Lancome Artliner
because on days when I want my eyeliner to be thinner, I can draw it so precisely! (For days when I like my eyeliner thick, I can just angle the Artliner, and the job still gets done!)
I was never a huge fan of Lancome mascaras before because I found that they tended to both smudge and clump, but the
Hypnose Drama mascara
won me over. It's long last lasting, doesn't flake, and most of all, is one of the best volumizing mascaras I've ever used. And with the help of the
Cils Booster
, my eyelashes look fabulous! If you pick one product to invest in, it should be the Cils Booster; pair it with any mascara and you will see the difference!
What products/new purchases are you currently loving? :o)
-S


P.S. Don't forget to enter here to win a necklace made by me potentially for you!!


Find me here too:
Twitter
Facebook
Lookbook

Chictopia