I've always really liked birds. My mom used to take me to Nordstrom Rack when I was little, and I loved going because there was a bakery right next to it. Birds would gathered outside trying to pick up any remnants people might have dropped on their way out. I would always run and chase the birds, hoping to catch one as a pet. I always failed, of course. :o(

Whether it is real birds, fake birds, birds on clothes, birds on decor--I just really like them. I them fun, charming, and whimsical. :o)



Obsession of the Moment: Birds, birds, birds!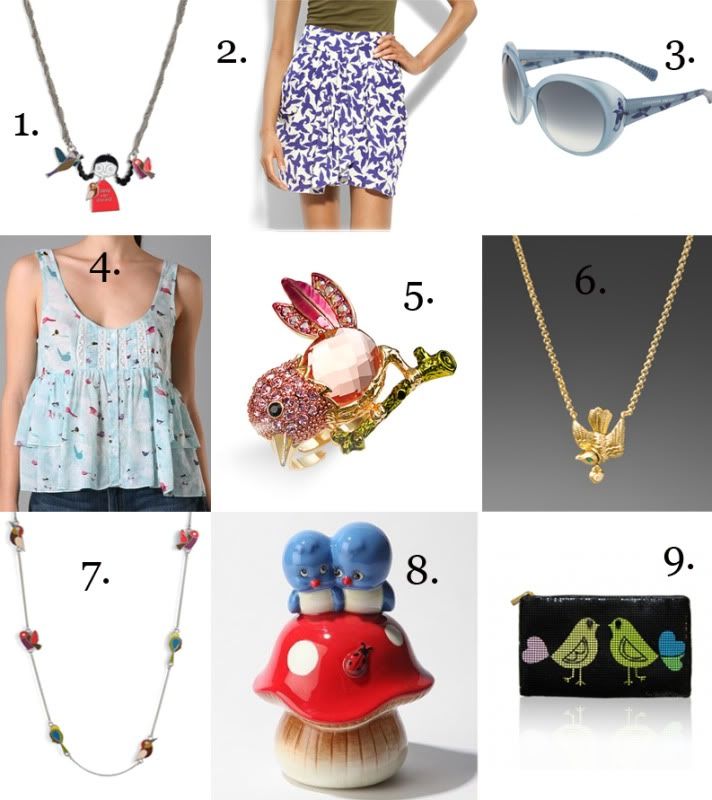 1. Marc Jacobs "Miss Marc Bird Pendant Necklace," $57; I love Miss Marc and seeing the birds hold her by her hair always makes me laugh.
2. Leifsdottir "Aviary skirt," $100; I love everything about this skirt--the style, the color, and of course, the lovely bird pattern!
3. Alexander McQueen "Bird Design Oversized Round Sunglasses," $360; personally, I love oversized round sunglasses, and the bird design on the sides make me love these sunglasses even more!

4. Free People "Boxy Bird Tank," $88; obviously, I love the birds, but I also really like the design of it--like the lace detailing--and how the blue is watercolor-esque.
5.
Cara "Critters Hummingbird Crystal Stretch Ring," $42; the. cutest. ring. ever. This is a ring I'd probably be willing to pay regular price for. lol.
6.
Juicy Couture "Wanderlust Small Wish Bird Pendant Necklace," $48; the little bird is too cute, and I love how dainty this necklace is!

7.
Marc Jacobs "Miss Marc Double Wrap Necklace," $78;
hello, cute little birds circling my neck!
8. Urban Outfitters "Love Bird Bank," $5; for 5 bucks, you could be the owner of the cutest money bank ever--piggy banks are so old fashioned!

9. Felix Rey "Love Birds Mesh Clutch," $150; saw this clutch earlier this year and had it bookmarked because I thought it would have been great for Valentine's Day. How cute are those birds!
Keeping with the theme, be sure to enter my giveaway to win this bird necklace!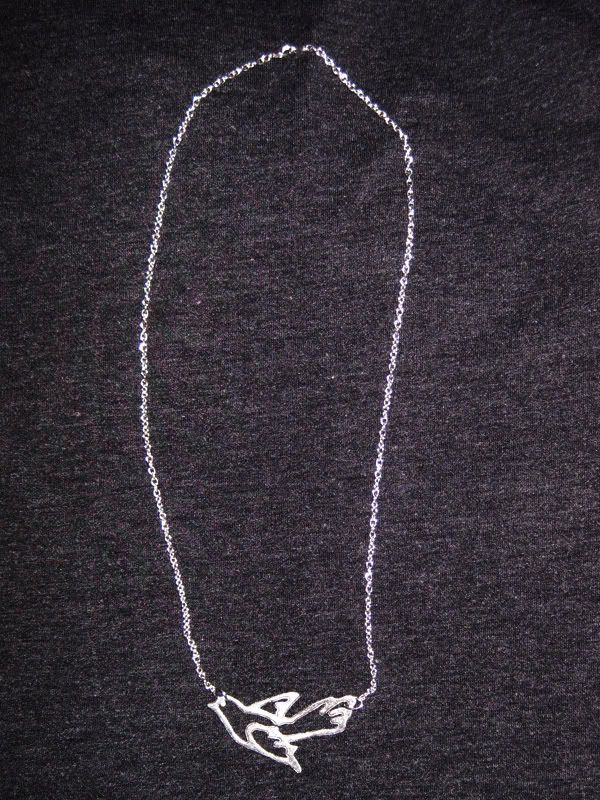 It's super easy to enter! Just follow me on
Google Friend Connect
,
Twitter
,
Bloglovin'
, and/or like me on
Facebook
. Then leave me a
separate
comment for each one you did. (Each is worth one entry.) Good luck!

--S


Find me here too:
Twitter
Facebook
Lookbook

Chictopia
Let's be friends! :o)