I was always told that April showers are supposed to bring May flowers. I've seen plenty of flowers, but apparently that doesn't mean that the April showers stop. I've always felt like I've been living in the wrong area. The Pacific Northwest is for people who can tolerate the abundant rain and love the outdoors. I hate the rain and my idea of spending time outdoors is probably running outside--in the sun, going to the beach--in the sun, or having a picnic--in the sun. Rain, rain,
pleeeeeeeease
go away.
In conclusion, I savor any breaks in the rain, especially so I can take pictures outside--in the sun (or at least non-rain).
Banana Republic sweater. Easy Money jeans. Groove boots.
House of Harlow ring. Linea Pelle bracelet. Cara Couture earrings.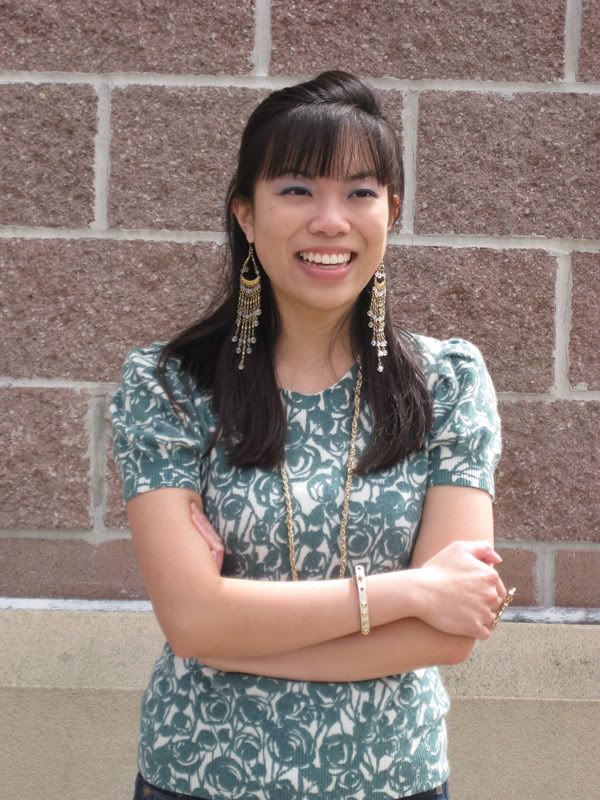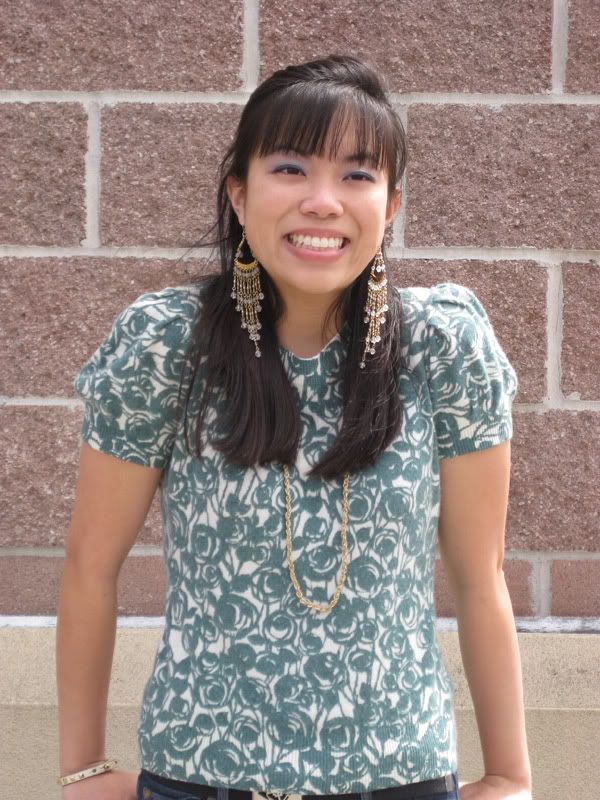 I love this Banana Republic sweater, it's probably my favorite short sleeved sweater. I love the dark green, the puffed sleeves--just the right puff, not too big, not too small--and the floral print. :o)
To me, accessories are the icing on the cake. They provide the finish to the outfit and should definitely not overshadow your outfit. Therefore, if your top is busy and is already drawing plenty of attention to itself, go for dangly earrings instead. And if you were like I was and still really wanted a necklace, make sure to keep it simple. It's all about balance.
Sorry for the false announcement of the
90210
and
Gossip Girl
season finales last week--I really thought it was last week! So let me say again how super excited I am! How great will Ivy's wedding be? What will happen because of Naomi's paper? Will Adrianna get what she really deserves? (I hope so!!)
What is Georgina doing back in town? What are they going to do with crazy Charlie? When will everyone figure out Blair is missing? And please don't let Blair die because she's my favorite character!! Leighton Meester isn't going to be renewing her contract when it ends; if it's ending season, I hope they write her off marrying the prince and moving to Europe instead of dying in a fire because that would not be cool.
And at the same time, I will be switching back and forth to watch the season finale of
Chuck
as well. I'm hoping for a happy episode!!
Also sad that
Smallville
is over, though bittersweet rather. It was starting to not be as good, but certainly had a good run. Will definitely miss Tom Wellings! :o(
Sorry if I spoiled anything for anyone who hasn't been watching, but you shouldn't be missing out on great shows! :o)
XOXO,
S
Find me here too:
Twitter
Facebook
Lookbook

Chictopia